Make A Donation
We need to raise about £70,000 every year to cover the costs of the schemes we fund. Since our inception, a significant part of the funding has come from localcompanies and charitable trusts, as well as local people. We're also grateful for the support of Nottingham City Council. However, maintaining this level of funding is difficult, and we need your help.
To ensure appropriate support for children and young adults with significant disabilities, the child-to-staff ratio needs to be maintained at all times, and staffing costs are high. As a result, the providers need to engage professionally trained staff to manage the activities. As the charity has no operational overhead remuneration, all such work is undertaken by volunteers.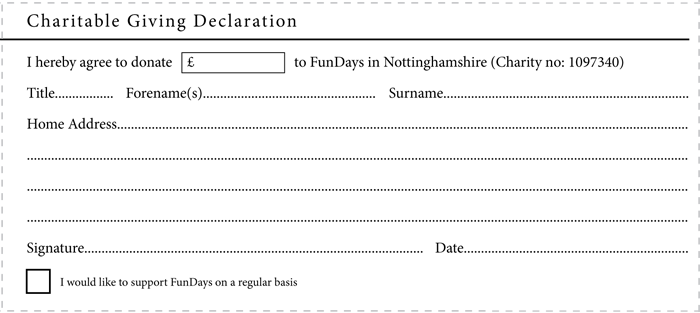 I confirm I am a UK taxpayer and would like to add Gift Aid* to my donation and any donations I make in the future or have made in the past 4 years
*Gift Aid is reclaimed by the charity from the tax you pay for the current tax year at the rate of 25p for every £1 you donate. Your address is needed to identify you as a current UK taxpayer.